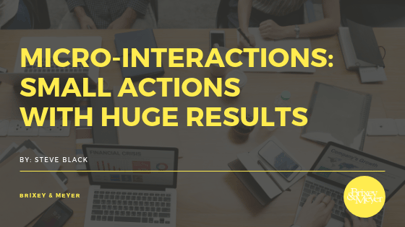 A casual glance at a cell phone while talking with a co-worker. Saying hello to a passer-by while walking to the copy machine. Interrupting someone just to say what is on your mind. Stopping to greet the front desk receptionist.
All of these are what I call "micro-interactions," and they add up to big results! In my world (HR), I define micro-interactions as exchanges between people that either build or deconstruct relationships. Most of the time, hundreds of these happen during a week without thought or intention. Sometimes, they are done with intention and careful design. Micro-interactions are the "nuts and bolts" fashioning positive or negative relationships. They are the building blocks producing trusting or toxic work environments. They are the ingredients developing great or dysfunctional teams.
When searching this term online, I found micro-interactions typically apply to improving a product's user experience. We encounter these each day on our smartphones, computers, and other technology devices. According to Allita Joyce from the Nielsen Norman Group, micro-interactions can improve the "user experience" in four ways:
Encourage engagement

Display system status

Provide error prevention

Communicate brand
As an example, I use a web-based software called Process Street. Process Street allows our company to document and standardize processes. Along with several team-members, we created a New Hire Onboarding process checklist. This checklist documents our HR and Payroll, IT, and Operational "to-dos" to ensure a positive new hire experience. What impresses me with this tool is not only the built-in communication and document housing features but also the "fun" positive reinforcers built into it. Two micro-interactions come to mind. First, when a checklist is completed, confetti streams down the screen "celebrating" successful completion. In the top banner, it says "Checklist completed." What a feeling of accomplishment! Then, when creating a PDF version of the completed checklist, it says "Generating... The process gnomes are generating a print preview. Sit tight." Comedic genius... subtle, unexpected, and random. I am engaged, know the status of my request, see that no errors are present, and recognize the type of brand Process Street wants to portray.
Think of the ramifications this has on the "user experience" within companies! Millions if not billions of key strokes have painstakingly been pressed discussing organizational cultures, work environments, and team-building. Billions of dollars have been spent hiring consultants to "fix" or "enhance" cultures and teams. Do not get me wrong, parts of these are good and long overdue! Research study after research study demonstrates a direct relationship between organizational cultures and key performance indicators. Strong cultures result in lower turnover, higher engagement, higher innovation, etc.
How do you create a trusting, innovative, and engaging workplace where people feel valued? Start by evaluating day-to-day micro-interactions. Are you too busy to say "hello" to a co-worker? Is your smartphone so addicting that you interact with it instead of the person across the conference table? Is cleaning out your inbox so vital to success that you cannot take ten minutes to walk around the office to interact with co-workers?
Here are simple "micro-habits" to create positive "micro-interactions":
Go for a walk! Take time to walk around the office and ask co-workers meaningful questions.

Write a note! Recognize someone's efforts and thank them for what they do.

Answer the phone with a smile! Body language and tone of voice often tell more to a person than spoke words.

Listen with intent! Do not spend time thinking of a witty reply. Rather, listen for understanding.
Check out other blog's by Steve Black:
Lattice Work: Building Structures That Support Strong Cultures
Trust... the Ultimate Competitive Advantage
Sources:
Joyce, Allita, "Microinteractions in User Experience," https://www.nngroup.com/articles/microinteractions/
(Pontefract, Dan, "If Culture Comes First, Performance Will Follow," https://www.forbes.com/sites/danpontefract/2017/05/25/if-culture-comes-first-performance-will-follow/#21bb5f926e62).