The Upside to Outsourced Accounting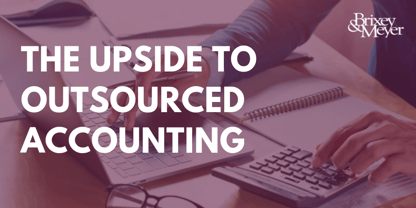 Life for accounting and finance leaders is more stressful than ever as businesses are growing, technology is changing, accounting updates and tax regulations are becoming increasingly complex and demand for top accounting and finance talent is accelerating. In this environment, corporate accounting and finance leaders are often forced to make some hard decisions. Do we place necessary projects on the back burner so we can keep up with our daily tasks? Do we enter into a demanding search for a highly qualified full-time employee who fits into our unique culture? Do we ask our team to buckle down and pick up a few more hours each week (or each day) to help the company get through this phase? In making these decisions we strive to provide a better work/life balance for our employees, protect the company culture we have worked so hard to attain, and most importantly avoid losing our best and brightest employees because they feel overworked and undervalued.
Fortunately, today there is another option. Companies now have easy access to highly qualified and highly motivated accounting and tax professionals with whom they can partner with to help navigate through regulatory changes, growth, turnover, etc. This option does not require a long-term and costly resume search, multiple rounds of candidate interviews, orientation, and training time that may only add stress to the existing team.
Outsourced accounting is an answer to the questions that so many corporate accounting and finance leaders are facing today. It involves engaging a public accounting firm and having an open dialogue about the company's wants and needs. The team then works with the firm to identify one or multiple individuals within their existing workforce who have the right skills and training to fill the need efficiently and effectively. Using this outsourced accounting model gives companies the ability to utilize the firm as an extension of their team, increase and decrease their staffing quickly as needed, and draw upon the resources of the firm to provide the best fit to solve the problem at hand.
The added benefit is that the professional that the company brings in is supported by a vast network of CPA's and professionals, all of whom are just a phone call away. This means that when you add one you add many, greatly increasing the value that the outsourced professional brings to your organization.
Although outsourced accounting is not the right answer for every situation, the scenarios that lend themselves well to outsourced accounting are too numerous to mention. If your accounting and finance function is feeling the added stress of significant growth, newly added financial reporting requirements, increased complexity from changes to accounting standards or tax regulations or the temporary or permanent loss of a key employee, perhaps it is time to consider the benefits of adding a public accounting firm as a strategic partner on your team.