What's Up With Our Audit & Assurance Team
Our Audit & Assurance practice has been teaming with clients in a variety of ways this year. We want to take a moment to highlight some of their most recent work. Why? For starters, we are proud... they are all rock stars (we may be a bit biased)! Really, we love to share the great work that they do and give you ideas on how we can help you, or someone you know, as you grow! Here are a few projects to highlight: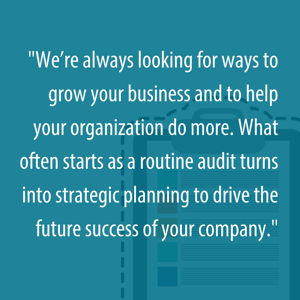 Kicked off a project with a rapidly growing regional manufacturing company to help them understand, document and optimize their inventory process using their recently implemented ERP System, and assisting the company with implementing a robust cycle count program

Working with a local pharmaceutical start-up, and their external auditors, to understand, document and properly account for unique and complex equity and debt transactions

Assisting a large public company with their external reporting and SEC filings on a quarterly basis

Working closely with a local manufacturing company that was recently acquired by a private equity firm to work through the entire purchase accounting process to establish fair values for their opening balance sheet

Assisting companies of various sizes and industries with valuation needs and working with

our existing clients to complete annual audits of their employee retirement plans

Sharing information with our clients regarding the new Revenue Recognition guidance released by the FASB and the changes that will impact most companies related to ASC 606
Feel free to reach out if you have specific questions with regards to this blog.