Making Work from Home, Work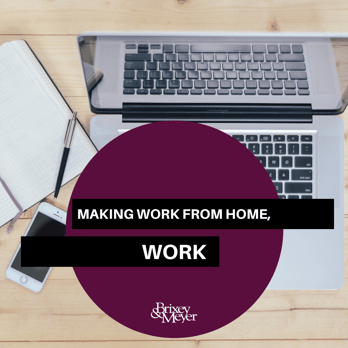 As someone who has now officially worked at home for all of one week, I am by no means an expert when it comes to working from home. Personally, I much prefer the energy and excitement of being in the office and interacting in person with our team and clients. That said, in preparation for my switch from the office to home, I did quite of bit of research and planning to ensure that I could maintain a high level of efficiency and effectiveness even from my remote workspace. Here are some tips that I have found helpful.
Stick to your morning routine: There is enough change and uncertainty right now. It may be tempting to roll out of bed and into your chair to start work for the day, but keeping your normal systems and routines in place will help you prepare mentally for your day.
Find the right space: If your home allows for it, finding a space that is away from the common areas will prove to be beneficial. If you are like me, being able to shut the door to mute the noise and distraction from kids is important. But even if you are the only person in your home, having a space that is set up specifically for your work location, you will eliminate distractions and it will be easier to separate work and home when your day ends.
Communicate, Communicate, Communicate: I have quickly found the heightened importance of regular communication, both formal and informal. In the latest episode of The Learning Leader Show with Ryan Hawk, guest General (ret.) Stanley McChrystal, talked about the importance of communication as his company, The McChrystal Group, has moved to remote work. At Brixey & Meyer, we have quickly adopted some of those habits as more of our team has moved to remote work. For us, that means scheduled daily check-ins with our teams. These check-ins are intended to set the tempo for the day and ensure the everyone is heading in the right direction. Outside of that formal communication, it also means impromptu 'hey, do you have a minute' conversations and video chats over Teams & Zoom, and just as importantly, non-work related check-ins, similar to water-cooler conversations. We have even engaged in a few virtual happy hours, which brought about many welcomed laughs.
Disconnect: When your office becomes your home, and your home your office, it further blurs the lines of work and life. This increases the importance of having ways to disconnect from work. This may mean going for a run at the end of the day, taking a walk or playing with the kids over your lunch break. Getting into the habit of shutting down your computer at the end of the day, cleaning your desk and shutting the door to your 'office' is another great way to shut off work for the day.
I would love to hear successes and failures from your own work from home experiences. Feel free to comment below or reach out via john.garrity@brixeyandmeyer.com.
Tags:
Takeaways
,
culture
,
onboarding
,
hiring
,
Growing
,
workplace productivity
,
Success
,
Workplace Culture
,
Coronavirus
,
COVID-19
,
Working From Home
,
WFH