Considering a Nonprofit Board Position? 3 Key Questions to Consider.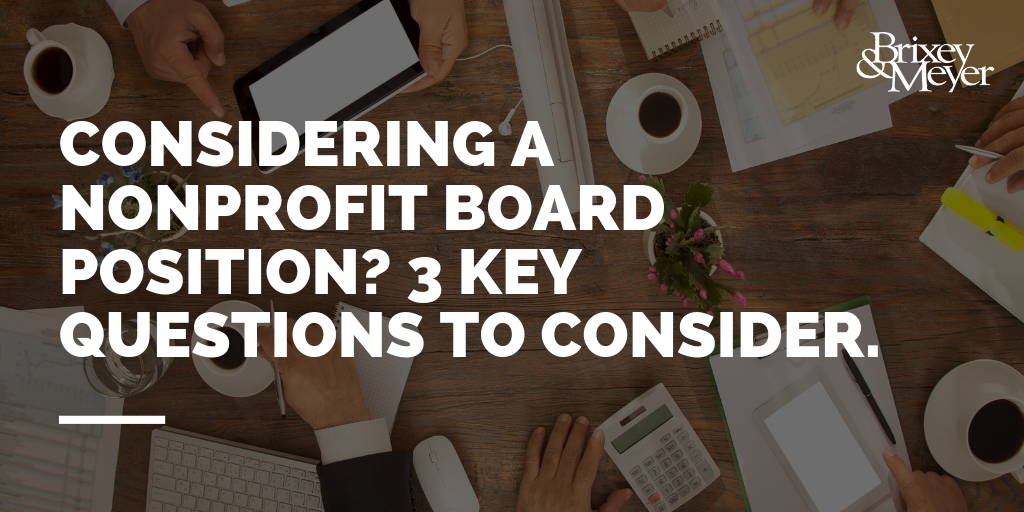 If your team is like ours, they love to be active in the communities your company serves. Any given week our team is involved in various events to promote and assist local nonprofit organizations, it's truly a passion of ours. Several years ago, we formed the Brixey & Meyer Community Outreach Foundation to put more direction and consistency behind our community involvement activities. The Foundation has been a fantastic success for us at B&M as our entire team has really embraced and energized its mission since day one.
Our team is also very active as individuals serving in committee and board roles for local nonprofit organizations. At last count, our team is serving in over 60 such roles for nonprofit organizations throughout Cincinnati, Columbus and Dayton. We love numbers and this is a number that makes us extremely proud!
I am approached often by B&M team members looking for advice about a committee or board position they are considering. I always point to 3 key questions they should ask themselves first when considering such an important responsibility:
Are you passionate about the organization's mission? You will only add value as a committee or board member if you are truly passionate about the mission it is serving in our community. If you cannot answer this with a quick "yes", then this should be a showstopper. Politely decline and look for other opportunities to serve organizations that you do feel passionate about and your interests align with the organization's mission.
Does it work with your schedule? Ask questions to gain a clear understanding of the time commitment involved in the role and the specific functions you will be asked to serve. Don't just talk in overall terms (i.e., 6 meetings per year). Instead, get very specific as to typical dates, times of meetings and key events (i.e., board meets the first Tuesday of each month at 7:30am). You do not want to commit to something you are passionate about and later find out that you cannot be as active and impactful as you'd like due to conflicts with the times the organization needs you most.
Is there a required monetary donation for committee or board members? Many nonprofit organizations require some level of monetary giving from their committee and board members, and they do so for good reason. If the organization is out soliciting donations in the community or through private and public grants, it is always important to show those funding sources that the committee and board members are engaged in all aspects of the organization, which includes some level of financial support. Every organization is different in this regard. Some ask for a personal commitment of a certain dollar amount per year. Others just ask that you assist with identifying corporate sponsors (including your own company) or other donors as part of your role as a committee or board member. Either way, always make sure you understand the expectations from a financial and fundraising perspective in advance to avoid any surprises later.
If you successfully navigate these 3 key questions, then you are moving towards joining a nonprofit committee or board. Now is the time to think through other less important questions. If you do make the decision to volunteer your time and talents, thank you for being active in the communities in which we all live, work and play!