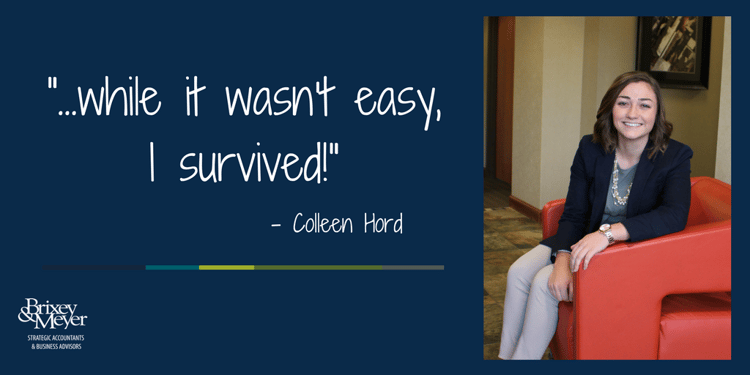 WE MISS BUSY SEASON! Don't you? Colleen is a Staff Accountant here at Brixey & Meyer and she experiencecd her first busy season as a full time employee this year. Below she shares, "3 Things I Learned From My First Busy Season."
Number 1:
There are a lot of opportunities to learn! Being out at the clients, the leaning curve is steep. There are deadlines, and the schedule of work is dependent on smashing those deadlines. I enjoyed the pressure, it was a form of adrenaline rush for me.
Number 2:
You learn a lot about your co-workers! Spending 10+ hours with them 5 to 6 days a week is one real solid team building experience as you are with them more than family and friends during busy season.
Number 3:
Maintaining healthy habits during busy season is challenging! After working long days and weeks, it is easy to eat fast food too often, skip the gym, and not preserve separation between work life and home life when there are deadlines to meet. Discipline in those areas is crucial, as it is what keeps your mind and body fueled to continue to perform the best while work much more than usual.
Everyone has been new at some point. What I love about our firm is that I felt supported by my team and I was encouraged to continue to ask questions. You are only new once and each busy season will get easier... while it wasn't easy, I survived!