A B&M Core Value... Join Our Team!
Here at Brixey & Meyer our mission is to have a positive impact on the people of our firm and the clients we serve. Our people are our greatest asset, which is why they come before anything else. As a growing business, we take pride in investing in our team so that they feel empowered to invest in themselves. This investment pays off as it translates to better service to our clients, which lead to long standing relationships and many referrals.
Treating our clients' business as our own business is one of our core values that is important to our firm. We don't have to tell you that we live up to this core value, because our clients have graciously shared...
Treat Our Clients' Business As Our Own Business
"A firm that cares about and develops a great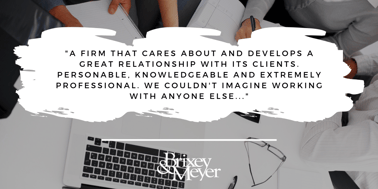 relationship with its clients. Personable, knowledgeable and extremely professional. We couldn't imagine working with anyone else when it comes to our taxes and finances."
"Efficient service. Courteous. Timely. Accurate. The office gives me confidence that the work will be done in time and well."
"Simply put, the team at Brixey & Meyer takes the time to understand their clients needs and develops a plan with appropriate personnel to achieve success."
Do you think you have what it takes to be a strategic partner for our clients?
Do you have a desire to lean into learning and becoming the best version of yourself?
Want to be a part of a winning team?
We are currently seeking new team members who are driven to add value and add to our vibrant culture here at B&M. Check out our
open positions
below and
apply
today!