3 Cloud Solutions that will Streamline your Back Office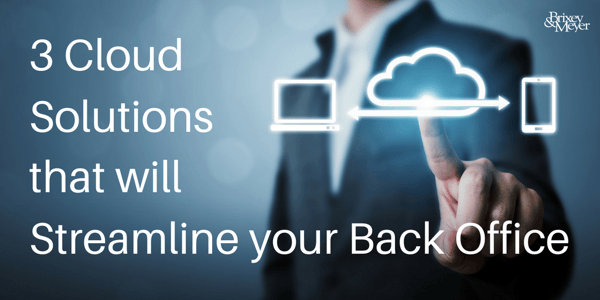 Over the last decade, the Business Productivity Software market has been flooded with new offerings. Cloud distribution has removed many barriers to entry, and as a result, new players are flowing in. This is good for those seeking to improve their business processes through technology, but also makes for an overwhelming task when wading through all the options and picking the right solutions. In my experience with helping small to mid-size clients select and implement cloud technology, I have consistently found the three solutions below to be affordable, integrate smoothly with accounting software, and create almost immediate productivity gains.
Bill.com
Bill.com makes AP easy. It takes shuffling papers and printing checks completely out of the process. Bills are routed to an online inbox where they can be coded and sent out for approval. Approval is done online via your web browser or a convenient smart phone app. Bill.com takes it from there by processing the check or ACH payment for you. In addition, there are many useful reports that give a clear picture of what bills are due, payment statuses, cash flow forecasting, etc.
Expensify
Gone are the days of manually compiling expense reports and maintaining a wad of paper receipts. Expensify allows you and your employees to snap a photo of the receipt on the spot then load them into an expense report automatically. An automated credit card transaction feed can be configured in seconds, and expenses can be configured to be coded automatically by Merchant Code. Expensify can also process reimbursements and remove them from the payroll or AP process.
Gusto
Gusto can be a great solution for any small to mid-size companies that don't currently have dedicated HR resources. Gusto uses a configurable workflow to handle employee matters starting from the point of making an offer all the way to separation from the company. They have a library of templates that can be leveraged, including an Employee Handbook wizard. They also have platforms for selecting, purchasing, and offering benefits such as Health Insurance and 401K. The technology, combined with strong customer support, makes HR manageable for those without an HR background.
Feel free to reach out if you have specific questions with regards to this blog.