5 Real Estate & Construction Predictions for 2019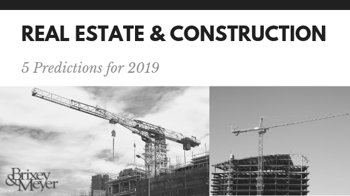 Marked by turbulent trade conditions, a shifting retail landscape, continued fallout over tax reform and the accelerated growth of coworking companies, 2018 was an eventful year for the real estate and construction industries.
A variety of forces are at play in 2019. The IRS will continue to release additional guidance on provisions introduced via tax reform, the future of the U.S. trade policy is uncertain and interest rates will likely rise again.
As the new year unfolds, we've outlined our top five predictions for 2019.
PREDICTION #1
Turbulent trade: Trade tensions will accelerate Chinese investors' retreat from U.S. commercial real estate. Even before the U.S.-China relationship entered rocky waters in 2018, Chinese investment in U.S. real estate was already declining.

PREDICTION #2
Office and retail tenants are already pushing for shorter lease terms, and a preference for flexible leasing will spread to other property types in 2019. The rapid growth of WeWork and other coworking providers has made short-term and flexible office leases more widespread.

PREDICTION #3
Demand for new infrastructure projects will increase, but construction labor woes continue.
Good news for contractors: Demand for new infrastructure will likely receive bipartisan support in 2019.

PREDICTION #4
Opportunity zones in urban areas will attract the most investment. Opportunity zones will be a major focus area for developers next year, and the majority of investment will likely be within major urban areas, rather than secondary or tertiary cities.

PREDICTION #5
A continued supply glut of Manhattan high-end condominiums will lead to distressed asset sales and foreclosures in 2019. Manhattan's luxury real estate market is in the midst of a three‑year rough patch.
Download the full article with more information:
I If you would like to speak to one of our tax specialists, please call: 1 (866) 760-0940 or send a note to Miranda.Hawk@brixeyandmeyer.com to setup a time to speak.