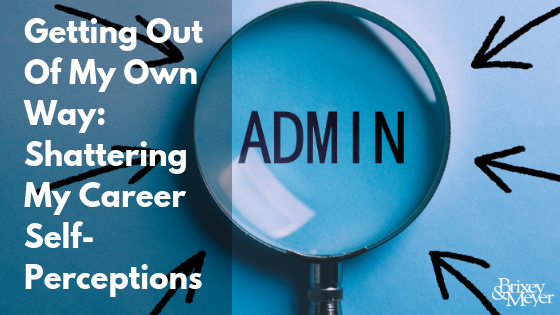 "Oh, so this is just an entry-level job?" "I guess it's a good way to get your foot in the door." As an administrative professional, I've heard these sayings more times then I like to count, and I use to believe others were right. I used to believe my role was just entry level, that I should look for a way to move out of my role and into a new one quickly, and enjoying what I do must somehow be…wrong. Then I started to wonder, what if I stopped defining my career path as an administrative professional by their logic? What if I decided to own the fact that I'm good at what I do, I enjoy what I do, and I see the value and impact I have on my team? Less than a year ago, I came to this very impactful realization and just in time!
Last summer, when I started searching for my next career opportunity, I spent a lot of time evaluating what type of role I wanted to pursue. I talked to friends, family, and former peers about the type of tasks I enjoy, asked about my strengths and weaknesses and researched dozens of different job descriptions. See, I was convinced that since I've already been in administrative assistant type roles that I needed to look for something different. After a few weeks of looking at job posting after job posting, I realized that I kept coming back to the same type of roles. That's right, you guessed it, administrative roles kept catching my attention.
I would save the job posting and then chicken out from applying. Not because I wasn't qualified, but because I kept hearing other people's nagging voices in the back of my head that it's not the type of role others think I should pursue. Then, like a tidal wave, I remembered guidance my oldest brother gave me early in my career, "You can't let them define your career path. You can't allow others the power to make that choice." While I find this to be great advice for life in general, for the second time in my career I was humbled by his words. After a few moments of contemplating the memory, I decided it was time to shatter my own perception, and hopefully others, on what it means to be an administrative professional.
After accepting pride in being an administrative professional and learning to embrace the opportunities and skills it has provided me over the years, I was able to approach looking for a new opportunity in a new light. I identified other areas that were important to me when finding the right new fit. I became aware of how important the culture of my new company was to me, and the opportunities to grow within the organization and role, not just how quickly I could grow out of the administrative role. With a clear understanding of the type of position I wanted to pursue and a focus on the company values I was seeking I was able to better communicate with my professional network. All the work paid off a few months later when I accepted my new role at Brixey & Meyer!
As I continue to focus on professional growth, I can't help but wonder what if others didn't look at their role as "entry level" or just a "foot in the door?" What if we, administrative professionals, opened our eyes to the reality of the impact we have on our team? What if we worked with greater purpose, and took our knowledge and unique view to provide innovative ideas for our company? What if we realized we are the missing link that makes our team, our company, our network complete? Our possibilities and impact could be endless!