On June 19th, our team member Ryan Hawk, host of The Learning Leader Show, interviewed top CoverMyMeds executives, Matt Scantland & Vicki Muscarella. This engaging discussion was taped live in front of many business leaders in the Columbus area.
"We started with what culture isn't." Vicki shares why beer taps and kayaks are the reflection of the culture, but not the culture itself. Hear more about how they've built an incredible culture, recruited and retained top talent and built a company that has built a tremendous reputation in a short period of time.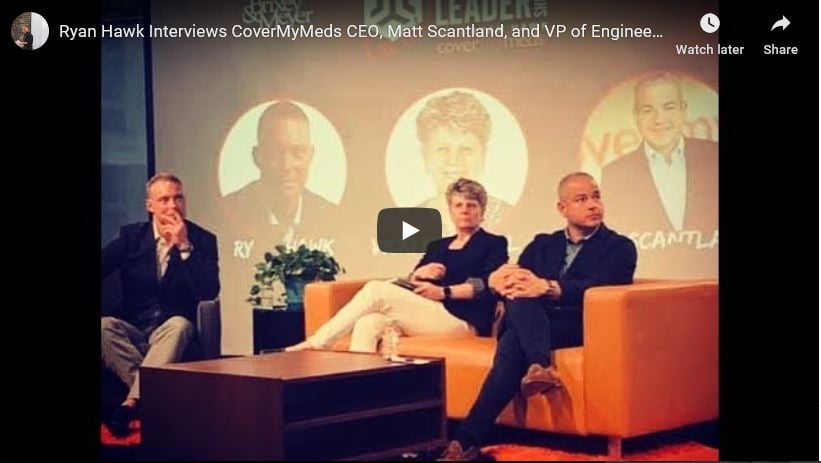 Special thanks to CoverMyMeds & BioOhio for the opportunity to host this interview and helping make it happen! You can learn about each company and speaker below.

Ryan Hawk, Founder & Host, The Learning Leader Show | Leadership Advisory Practice Leader Brixey & Meyer | LinkedIn
Ryan Hawk is the founder and host of The Learning Leader Show, a podcast that has been listened to by millions of people in 156 countries worldwide. Additionally, he runs the Leadership Advisory team at Brixey & Meyer. He has been a student of leadership and performance excellence most of his life – first as a high level athlete (collegiate and professional quarterback), then in the corporate world. He was a much-decorated sales professional, Sales Manager, and ultimately a Vice President of Sales in a multi-billion-dollar multinational company. Ryan is a regular speaker at Fortune 500 companies and has worked with teams and players in the NFL, NCAA, and NBA.
Vicki Muscarella, VP of Engineering and Data, Specialty Pharma, CoverMyMeds | LinkedIn
Vicki Muscarella is the VP of Engineering and Data, Specialty Pharma at CoverMyMeds. She has more than 25 years of experience in architecting, developing, and supporting highly scalable, reliable software products. Her passion lies in leading technology teams to produce quality solutions that delight customers. She believes the adoption of agile practices is the answer to delivering value-driven, customer-centric results as quickly as possible. When Vicki isn't helping to resolve technology challenges or dodging nerf darts at CoverMyMeds, she's spoiling her dogs with lots of hugs and long walks.
Matt Scantland, CEO & Co-Founder, CoverMyMeds | LinkedIn
Matt Scantland is Co-Founder and CEO of CoverMyMeds, the nation's largest electronic prior authorization platform. As CEO, Matt is responsible for overall company leadership and growth. He brings a product and technology perspective to the management team, and helps drive the company's innovation strategy. Prior to co-founding CoverMyMeds, Matt was co-Founder and president of a software development company in Columbus that served large health care companies. Matt is active in Columbus' business, civic and technology communities, and is an enthusiastic supporter of the growing entrepreneurial ecosystem in Columbus.
About The Learning Leader Show
The Learning Leader Show is a top rated podcast that has been listened to millions of times by people in 156 countries worldwide. The host, Ryan Hawk, has recorded more than 300 episodes (with the brightest leadership minds in the world like Simon Sinek, Seth Godin, Kat Cole, General Stanley McChrystal), and many more over the past five years. It has become a global phenomenon. Forbes called it "The most dynamic leadership podcast out there." Inc Magazine named it "One of the 5 best podcasts to help you lead smarter. LearningLeader.com
About Brixey & Meyer
Brixey & Meyer is an unconventional team of business experts who love to help companies grow. We aim to be the regions first choice for Accounting, Tax, Business Advisory, and Leadership Advisory Services. B&M offers a unique way of working with our partners, providing them with strategic. We aim to be a value added service provider to manage and sustain growth. Our extensive experience in industry, public accounting, audit, tax, business advisory and leadership advisory enables us to provide the creative and client-focused solutions of a small firm with the technical expertise and deep resources of a large, international firm to a wide range of companies & industries. BrixeyandMeyer.com
About BioOhio
Founded in 1987, BioOhio is a member-guided service supporting Ohio's bioscience community through networking, advocacy, events, talent, information, and cost savings. BioOhio helps members identify partners, attract investment dollars, save money through affinity purchasing programs, build professional networks, promote news and services, tap into talent sources, support educational programs, and advocate in front of state and local officials. BioOhio is the Ohio affiliate for global bioscience associations AdvaMed, BIO, MDMA, and PhRMA. BioOhio.com
About CoverMyMeds
CoverMyMeds, part of McKesson Prescription Technology Solutions, is a leader in electronic prior authorization (ePA) and real-time benefit check solutions, and one of the fastest growing health care technology companies in the U.S. CoverMyMeds' network includes more than 500 electronic health record systems (EHRs), 62,000 pharmacies, 700,000 providers and most health plans and PBMs. By facilitating appropriate access to medications, the company can help its customers avoid billions of dollars each year in administrative waste and avoidable medical spending caused by prescription abandonment. CoverMyMeds.com
Below are several options to consume more content!
CLICK HERE to subscribe to Mindful Monday, a weekly newsletter by Ryan Hawk. You can do this in the pop up or in the side/bottom bars.

CLICK HERE to subscribe to Brixey & Meyer's monthly newsletter

SUBSCRIBE HERE to The Learning Leader Podcast on iTunes/Apple Podcast. If you are not directed to his page, search Ryan Hawk or The Learning Leader Show. Be sure to click subscribe!
We are happy to have a conversation about specific questions related to this blog. Please fill out the contact form below.