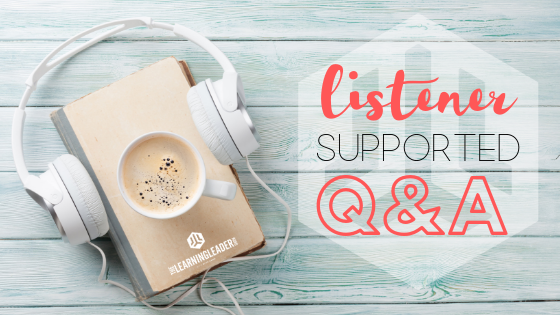 "You are the sum of your experiences, the people you meet, and the books you read."
Over the past four and a half years, my podcast, The Learning Leader Show, has grown significantly. There are millions of listeners in 156 countries worldwide. I recently connected with a number of them via Skype, and answered some of their (very thoughtful) questions. To listen to the conversations, CLICK HERE.
Question from Ed Arnston -- Lt. Col in The United States Army -- All of your guests are excellent and offer a lot of wisdom, but as you've done more than 300, what are the top 5 in power rankings of guests on your show?
Question from CaSaundra Garber -- Technical Project Manager, Portland, Oregon -- Who have you always wanted to have on your podcast that you haven't made happen yet? Reading The Alliance, what are your thoughts on it?
Question from Daniel Jellings -- Manager Local Government, Adelaide, Australia -- Career has been linear, regular promotions along the way, became a manager about five years ago. What are your thoughts on proactively exploring other roles that are outside of my current skill set (that could be a side step) in order to eventually become a General Manager?
Question from Andrew (Opie) Brodbeck -- Former professional baseball player, Clearwater, Florida -- What skills from playing football helped you in your business life off the field? Took a personality test and didn't pass it based on the company feedback? How to deal with that and develop confidence in yourself in something off the field? How to lead a dysfunctional team that lacks trust (Chelsea)?
Question from Lizzie Merritt-- Manager/Leader, Jacksonville, Florida. (and member of my Leadership Circle) --The quality of your leadership depends on the quality of your questions. I imagine there are plenty of examples of massive failures that can be traced back to a leader not asking the right questions.While this concept is simple on the surface, it gets tougher in practice. As a leader, how do you respond with questions instead of answers? How do you know the right questions to ask?
Question from Eric Liddic-- Print broker, Dayton, Ohio -- What advice would you give to someone who hasn't sold in the past, but needs to sell now?
Question from Marietta Sanders -- Lt. Colonel, Squadron Commander, US Air Force, stationed in United Arab Emirates -- What are the common areas you see the best leaders focus on within their businesses?
You can read the original article HERE.
I am happy to have a conversation about specific questions related to this blog. Please fill out the contact form below.