As more Americans get vaccinations and an economic recovery is within sight, manufacturers can bring lessons learned during the pandemic to accelerate growth. However, a recent BDO USA, LLP poll found that manufacturers are split; some are in growth mode and are focusing on product or service innovation and tech investments, while others are looking to weather the rest of the economic downturn and restructure.
During a recent webinar, BDO polled manufacturing executives on their business priorities, strategies for resilience and growth and overall outlook for their business. Here's what they learned:
Manufacturers Are Split Between Survivors and Thrivers
About half of manufacturers said their companies are surviving, meaning they're stable and breaking even, while a little less than half say they're thriving and experiencing profits and growth.

How Manufacturers say their business is doing right now:


Business Priorities: Managing Economic Downturn, Investing in Tech
In 2021, some manufacturers are focused on continuing to manage through the economic downturn. But many are optimistic for the innovation the post-pandemic future will bring. Their number 2 business priority is investing in technology or infrastructure.

Manufacturing's biggest business priority this year: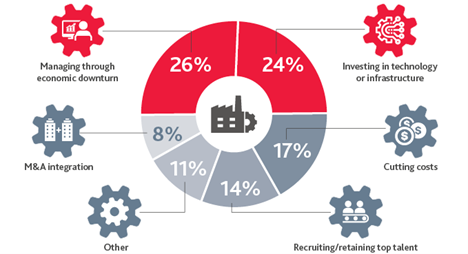 Strategies for 2021: Innovation Takes the Top Spot
Manufacturers are looking to advance innovation this year, with their top business strategy being product or service expansion, followed by digital transformation and M&A. However, some are still struggling to stay the course, as 14% say they plan to pursue restructuring.

Top strategies manufacturers are planning to pursue this year:



Feel free to download this update and share with your colleagues!
As a BDO alliance member, we get to pass along industry specific letters to ensure you stay ahead of in-depth updates and thought leadership in your industry. We want you to understand how your organization or organizations that you serve are impacted. Let us know if you want to be added to our industry specific newsletters in the comments below!
If you have additional questions on any of the topics included and would like to learn more, please feel free to contact our team.