The Learning Leader Show is a podcast created and hosted by Brixey & Meyer's Leadership Advisory Practice Leader, Ryan Hawk. The show is a top rated iTunes business podcast that focuses on learning from the smartest, most creative leaders in the world.
The September episodes of The Learning Leader Show are listed below and we highly recommend checking them out!
Episode #326: Jason Zook - Why You Should Own Your Own Weird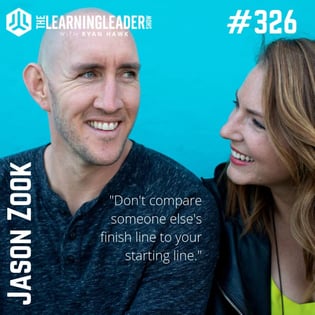 Jason Zook is an unconventional entrepreneur. Tired of living a life that felt prescribed to him by society, Jason used his out-of-the-box thinking and ingenuity to create multiple profitable Internet-based businesses. His most-notable business was IWearYourShirt, a company that generated over $1,000,000 by wearing sponsored t-shirts to promote over 1,600 businesses on social media from 2008-2013 before "influencer" was a mainstream term. If that wasn't weird enough, from 2012 and 2013, Jason auctioned off his last name to the highest bidders and made nearly $100,000 doing it. Jason's second book is titled "Own Your Weird." Jason has been featured by The Today Show, CBS Evening News, USA Today, and The New York Times. He lives in San Diego, California with his wife, Caroline. They co-own the business Wandering Aimfully which helps creative business owners navigate the murky waters of working for yourself and staying sane in the process.
"Don't compare your starting line to someone else's finish line."
Episode #327: Marc Roberge - How To Create Fans For Life (O.A.R.)

Marc Roberge is lead singer and rhythm guitar player for O.A.R. (Of A Revolution). He also is their primary songwriter and has been described by his band-mates as, "Our Leader." He formed the band with his best friend (and drummer) Chris Culos for an 8th grade talent show 23 years ago in Rockville, Maryland. I first saw him play at a college bar called "First Run" on the Miami University campus in Oxford, OH my freshman year (2000). Since then, O.A.R. has gone on to sell out Madison Square Garden. We recorded this episode in Austin, Texas next to the stage at Stubb's Waller Creek Amphitheater.
"A part of leadership is knowing when you're wrong and when the other idea is better and move on."
Episode #328: Joel Peterson - How To Build The Bonds That Make A Business Great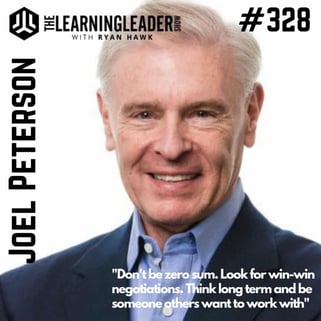 Joel Peterson is the Chairman of the Board at JetBlue Airways. He has served on more than three dozen boards over the past 45 years. Joel is also the Founding Partner and Chairman of Peterson Partners, a Salt Lake City-based investment management firm with $1 billion under management. Peterson Partners has invested in over 200 companies through 13 funds in four primary asset classes: growth-oriented private equity, venture capital, real estate, and search funds. Since 1992, Joel Peterson has taught courses in real estate, entrepreneurship, and leadership at the Graduate School of Business, Stanford University. Prior to Stanford Business School and founding Peterson Partners, Joel was Chief Executive Officer of Trammell Crow Company, then the world's largest private commercial real estate development firm. Joel earned an MBA from Harvard Business School and received his Bachelors degree from Brigham Young University, where he was valedictorian and student body president.
"You can't do good business with bad people."
Episode #329: Kindra Hall - How Storytelling Can Influence Audiences & Transform Your Business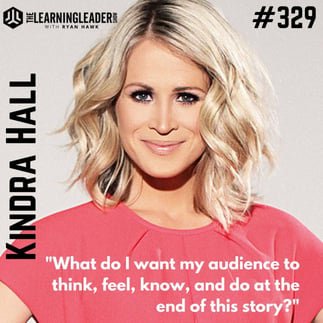 Kindra Hall is President and Chief Storytelling Officer at Steller Collective, a consulting firm focused on the strategic application of storytelling to today's communication challenges. Kindra is one of the most sought after keynote speakers trusted by global brands to deliver presentations that inspire teams and individuals to better communicate the value of their company, their products and their individuality through strategic storytelling. Kindra is a former Director of Marketing and VP of Sales. Today, Kindra's work can be seen at Inc.com, Entrepreneur.com and as a contributing editor for SUCCESS Magazine. Kindra's message spans all industries and her clients include Facebook, Hilton Hotels, Tyson Foods, Target, Berkshire Hathaway and the Harvard Medical School. Her much anticipated book, Stories That Stick, will be published on September 24, 2019.
"What do I want my audience to think, feel, know, and do at the end of this story?"
Episode #330: Deconstructing The Art & Science Of Interviewing With Jay Acunzo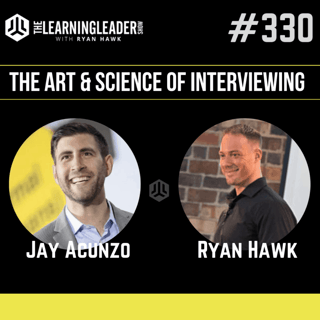 This is a special bonus episode focusing on deconstructing the art and science of interviewing. You will hear learning happening in real time. Jay Acunzo and I go a meta-level to better understand how to better improve our skill as a conversationalist, how to ask better questions, and how to increase you capacity to learn through 1 on 1 conversations. "Interviewing is a skill that enhances your life in a pleasant and unexpected way." This is focused on how you can ask better questions, be more interesting and more interested, and become a better conversationalist.
"It's not a constant march forward. Instead, think of it like a dance. There are some steps back, steps forward, steps to the side — all packaged together in one coherent experience, with lots of zig-zagging and subtle steps inside those boundaries."
Episode #331: Ryan Holiday - How Will You Choose To Respond? (Stillness Is The Key)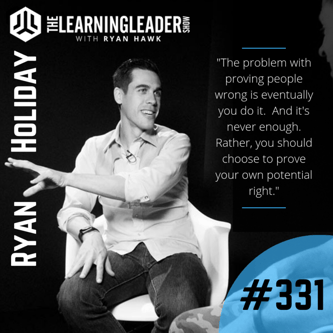 Ryan Holiday is one of the world's foremost thinkers and writers on ancient philosophy and its place in everyday life. He is a sought-after speaker, strategist, and the author of many bestselling books including The Obstacle Is the Way; Ego Is the Enemy; and The Daily Stoic. His books have been translated into over 30 languages and sold over two million copies worldwide. He lives outside Austin, Texas, with his family. His latest book is called Stillness Is The Key.
"I have an inner scoreboard and hold myself to those standards."
Feel free to reach out to us in regards to anything in this blog! We'd love to hear your thoughts and opinions below!