The Learning Leader Show is a podcast created and hosted by Brixey & Meyer's Leadership Advisory Practice Leader, Ryan Hawk. The show is a top rated iTunes business podcast that focuses on learning from the smartest, most creative leaders in the world.
The October episodes of The Learning Leader Show are listed below and we highly recommend checking them out (especially episode #332)!
Episode #332: David Brixey & Doug Meyer LIVE! - How To Build & Sustain A Great Partnership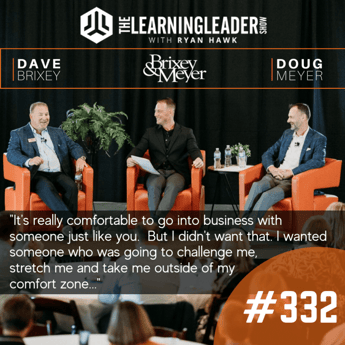 This episode was recorded in front of 150 of our closest friends, family, and clients in Dayton, Ohio.
Doug Meyer formed Brixey & Meyer alongside Dave Brixey with a dream to give clients a different way of working with their tax professionals. In his role as Managing Director, Doug serves as a trusted business advisor to Business Owners, CEOs, CFOs and Boards of Advisors, driving value and accountability in the following strategic areas: succession & ownership planning, strategic planning, owners agreement structures, compensation planning, family business advisory & issue mediation, professional management practices, mergers & acquisition strategy, and family charter implementation.
David Brixey formed Brixey & Meyer with Doug Meyer in 2002 utilizing his insatiable entrepreneurial spirit and his financial skills gained at Ernst & Young. He is also the co-founder and Managing Director of Brixey Meyer Capital, a lower middle market private investment firm. Since 2008, Dave has been personally involved in investing in small business to lower middle market as well as venture capital.
"I was all in. There was no option for failure. You have to be all in. There was not one day that I ever thought about doing something different."
Episode #333: Chris Savage - How To Bet On Yourself & Scale Through Creativity (The Wistia Way)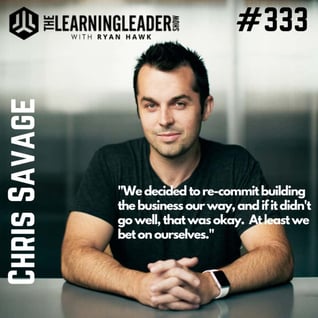 Chris Savage is the co-founder and CEO of Wistia, a web-based video hosting solution built for businesses. He founded the company in 2006 with the goal of helping businesses effectively market their products or services in a smarter way through video. Under Savage's leadership and vision, Wistia has experienced 100 percent growth over the past three years, expanding the company's client portfolio to more than 110,000 users in more than 50 countries, including companies such as HubSpot, MailChimp, and Starbucks.
"Being busy is not a sign of success."
Episode #334: Yancey Strickler - Using The Power Of Metaphors (This Could Be Our Future)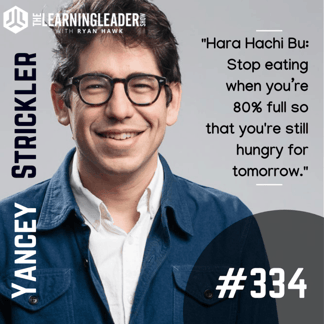 Yancey Strickler is a writer and entrepreneur. He is the cofounder and former CEO of Kickstarter and author of This Could Be Our Future: A Manifesto for a More Generous World.
Yancey has been recognized as a Young Global Leader by the World Economic Forum and one of Fast Company's Most Creative People. He's spoken at the Museum of Modern Art, Sundance and Tribeca Film Festivals, Web Summit, and events around the globe. He cofounded the artist resource The Creative Independent and the record label eMusic Selects. Yancey grew up in Clover Hollow, Virginia, and began his career as a music critic in New York City.
"People need to know how to make decisions."
Episode #335: Deconstructing The Art & Science Of Public Speaking With Jay Acunzo

This is another bonus episode with my friend, Jay Acunzo. We deconstruct the art and science of public speaking in this bonus episode.
"If I need the slides, I'm not ready."
Episode #336: Neil Pasricha - How To Build Resilience & Live An Intentional Life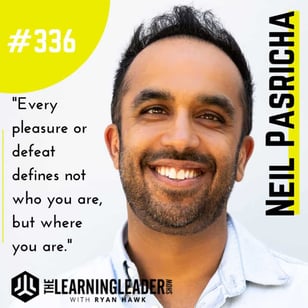 Neil Pasricha is the the author of six books including: The Book of Awesome, a spinning rolodex of simple pleasures based on his 100-million-hit, award-winning blog 1000 Awesome Things, The Happiness Equation, originally written as a 300-page love letter to his unborn son on how to live a happy life, Awesome Is Everywhere, an interactive introduction to guided meditation for children, and How To Get Back Up, a memoir of failure and resilience released as an Audible Original. His latest book is called You Are Awesome. His books are New York Times and #1 international bestsellers and have sold millions of copies across dozens of languages. His first TED talk "The 3 A's of Awesome" is ranked one of the 10 Most Inspiring of all time.
"Different is better than better."
Feel free to reach out to us in regards to anything in this blog! We'd love to hear your thoughts and opinions below!