The Learning Leader Show is a podcast created and hosted by Brixey & Meyer's Leadership Advisory Practice Leader, Ryan Hawk. The show is a top rated iTunes business podcast that focuses on learning from the smartest, most creative leaders in the world.
The June episodes of The Learning Leader Show are listed below and we highly recommend checking them out!
Episode #314: John Calipari & Michael Lombardi -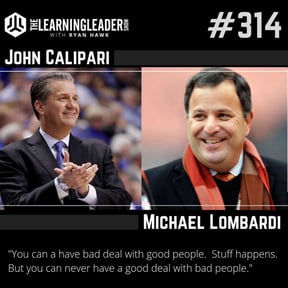 Building & Sustaining A Culture of Excellence
John Calipari has been the head coach of the University of Kentucky basketball team since 2009, with whom he won the NCAA Championship in 2012. He has been named Naismith College Coach of the Year three times (in 1996, 2008 and 2015), and was inducted into the Basketball Hall of Fame in 2015. Calipari has coached Kentucky to four Final Fours, in 2011, 2012, 2014 and 2015. He also led UMass and Memphis to the Final Four in 1996 and 2008 respectively. Coach Cal's players have made over $1 Billion in NBA contracts.
Michael Lombardi was an assistant to the coaching staff of the New England Patriots (until 2016) and is a former analyst for the NFL Network and sportswriter at NFL.com. Lombardi also previously served as an NFL executive with the San Francisco 49ers working with Bill Walsh, Cleveland Browns, Philadelphia Eagles, and Oakland Raiders working with Al Davis.
"The greatest reward for winning is the opportunity to do it more."
Episode #315: Gabriel Weinberg - Using Mental Models To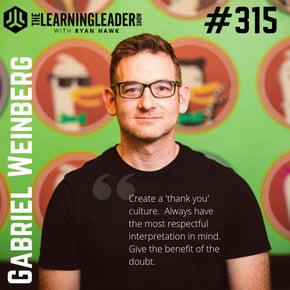 Make Better Decisions

Gabriel Weinberg is the CEO & Founder of DuckDuckGo, the Internet privacy company that empowers you to seamlessly take control of your personal information online, without any tradeoffs. Since 2008, Weinberg has grown DuckDuckGo from a self-funded operation out of his dusty basement into a business with over $25 million in revenue and 50 employees across multiple continents.
"Relationships move at the speed of vulnerability."
Episode #316: Cal Newport - How To Choose A Focused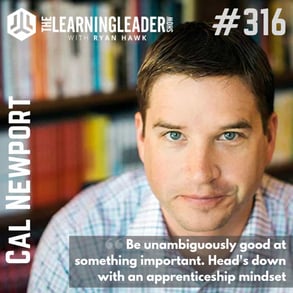 Life In A Noisy World
Cal Newport is a computer science professor at Georgetown University who studies the theory of distributed systems. In addition to his academic work, he writes about the intersection of technology and culture.
Cal is the author of six books, including, most recently, the New York Times bestseller, Digital Minimalism: Choosing a Focused Life in a Noisy World. His work has been published in over 20 languages and has been featured in many major publications, including the New York Times, Wall Street Journal, New Yorker, Washington Post, and Economist.
"The reality is simpler… 'Be relentlessly good at something valuable."
Episode #317: Susan Cain - The Power Of Introverts In A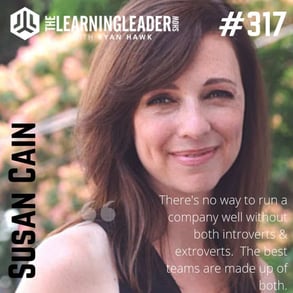 World That Can't Stop Talking

Susan Cain is the author of the world-wide bestseller Quiet: The Power of Introverts in A World That Can't Stop Talking, which has been translated into 40 languages, is in its seventh year on the New York Times best seller list, and was named the #1 best book of the year by Fast Company magazine, which also named Cain one of its Most Creative People in Business. LinkedIn named her the 6th Top Influencer in the world. Her writing has appeared in the The New York Times, The Atlantic, The Wall Street Journal, and many other publications. Her record-smashing TED talk has been viewed over 20 million times and was named by Bill Gates one of his all-time favorite talks. Cain has also spoken at Microsoft, Google, the U.S. Treasury, the S.E.C., Harvard, Yale, West Point and the US Naval Academy. She received Harvard Law School's Celebration Award for Thought Leadership, the Toastmasters International Golden Gavel Award for Communication and Leadership, and was named one of the world's top 50 Leadership and Management Experts by Inc. Magazine. She is an honors graduate of Princeton and Harvard Law School.
"The wind howls but the mountain remains still."
Feel free to reach out to us in regards to anything in this blog! We'd love to hear your thoughts and opinions below!