The Learning Leader Show is a podcast created and hosted by Brixey & Meyer's Leadership Advisory Practice Leader, Ryan Hawk. The show is a top rated iTunes business podcast that focuses on learning from the smartest, most creative leaders in the world.
Brief takeaways from the February episodes of The Learning Leader Show are below and we highly recommend checking them out!
Episode #350: Tom Rath - Answering Life's Great Question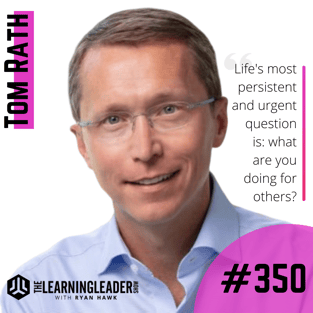 Tom Rath is an author and researcher who has spent the past two decades studying how work can improve human health and well-being. His 10 books have sold more than 10 million copies and made hundreds of appearances on global bestseller lists. Tom's first book, How Full Is Your Bucket?, was an instant #1 New York Times bestseller and led to a series of books that are used in classrooms around the world. His book StrengthsFinder 2.0 is Amazon's top selling non-fiction book of all time. Tom's other bestsellers include Strengths Based Leadership, Eat Move Sleep, and Are You Fully Charged?
"There's an enormous mismatch in what the world needs and what's out there."
Episode #351: John Maxwell - The Laws Of Leadership (Follow Them & People Will Follow You)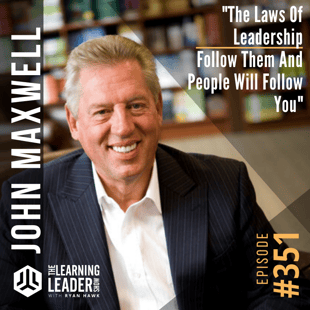 John C. Maxwell is an internationally recognized leadership expert, speaker, coach, and author who has sold over 20 million books. Dr. Maxwell is the founder of EQUIP and the John Maxwell Company, organizations that have trained more than 5 million leaders worldwide. Every year he speaks to Fortune 500 companies, international government leaders, and organizations as diverse as the United States Military Academy at West Point, the National Football League, and the United Nations. A New York Times, Wall Street Journal, and Business Week best-selling author, Maxwell has written three books which have each sold more than one million copies: The 21 Irrefutable Laws of Leadership, Developing the Leader Within You, and The 21 Indispensable Qualities of a Leader.
"I aim to always give 60 and take 40. Always give more than you take."
Episode #352: Patrick Lencioni - The Five Key Actions Of Excellent Leaders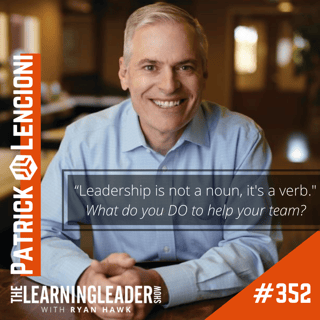 Patrick Lencioni is founder and president of The Table Group, a firm dedicated to helping leaders improve their organizations' health since 1997. His principles have been embraced by leaders around the world and adopted by organizations of virtually every kind including multinational corporations, entrepreneurial ventures, professional sports teams, the military, nonprofits, schools, and churches. Pat is the author of ten business books (The Five Dysfunctions Of A Team, The Motive, The Advantage, The Ideal Team Player) with over three million copies sold worldwide. His work has appeared in the Wall Street Journal, Harvard Business Review, Fortune, Bloomberg Businessweek, and USA Today.
"Leadership has to be about what you can give, not what you can get."
Episode #353: Jeni Britton Bauer - How To Create A 'Craveable' Reason To Return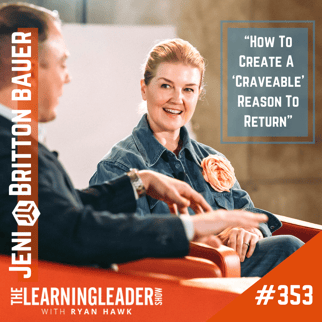 *One of our personal favorite episodes as we got to watch this episode get recorded LIVE in Columbus!*
Jeni Britton Bauer is an American ice cream maker and entrepreneur. A pioneer of the artisan ice cream movement, she introduced a modern, ingredient-driven style of ice cream making that has been widely emulated across the world but never duplicated. Jeni opened her first ice cream shop, Scream, in 1996, then founded Jeni's Splendid Ice Creams in 2002. Her first cookbook, Jeni's Splendid Ice Creams at Home, is a New York Times and Wall Street Journal bestseller and won a coveted James Beard Award in 2012. It quickly became the de facto bible for anybody making their own ice cream or thinking about opening a new-style ice cream shop. Her second cookbook, Jeni's Splendid Ice Cream Desserts (2014), took ice cream to the next level with an array of incredible plated, layered, and piled-high ice cream-centric desserts. As Founder and Chief Creative Officer, Jeni remains the beating heart of the company and is in charge of all creative output—from the ice cream itself to the supporting details that enhance the experience of eating it. Jeni is a 2017 Henry Crown Fellow and has been recognized by Fast Company as "one of the most creative companies in the world."
"The main thing is you show up every day. You show up and lead by example. You have to be IN IT daily."
Feel free to reach out to us in regards to anything in this blog! We'd love to hear your thoughts and opinions below!