The Learning Leader Show is a podcast created and hosted by Brixey & Meyer's Leadership Advisory Practice Leader, Ryan Hawk. The show is a top rated iTunes business podcast that focuses on learning from the smartest, most creative leaders in the world.
Brief takeaways from the August episodes of The Learning Leader Show are below and we highly recommend checking them out!
Episode #377: Casper Ter Kuile - How To Turn Everyday Activities Into Soulful Practices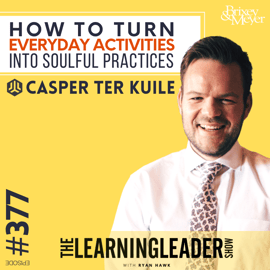 Casper Ter Kuile is the author of The Power of Ritual. He's also a Ministry Innovation Fellow at Harvard Divinity School and the co-founder of startup Sacred Design Lab – a research and design consultancy working to create a culture of belonging and becoming. He co-authored "How We Gather" and his work has been featured in the New York Times, Vice, The Atlantic, and the Washington Post. Casper holds Masters of Divinity and Public Policy from Harvard University.
"We all worship something. We just don't know what we're worshiping."
Episode #378: Brad Feld - How To Collect Amazing People, Question Your Biases, & Build Community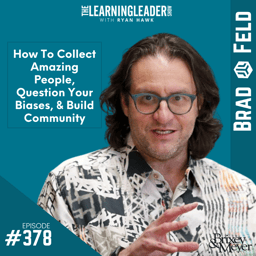 Brad Feldhas been an early stage investor and entrepreneur since 1987. Prior to co-founding Foundry Group, he co-founded Mobius Venture Capital and, prior to that, founded Intensity Ventures. Brad is also a co-founder of Techstars. He is a writer and speaker on the topics of venture capital investing and entrepreneurship. He's written a number of books as part of the Startup Revolution series and writes the blogs Feld Thoughts and Venture Deals. Brad holds Bachelor of Science and Master of Science degrees in Management Science from the Massachusetts Institute of Technology. He is also an art collector and long-distance runner. He has completed 25 marathons as part of his mission to finish a marathon in each of the 50 states.
"'Your words must match your actions."
Episode #379: Jack Butcher - How To Visualize Value
Jack Butcheris the founder/creator/operator at Visualize Value. Visualize Value helps clarify and codify your value proposition. It's clear, consistent, and compelling communication for those building a better way. Prior to that, he spent 10 years in corporate advertising in NYC. Jack is a master at clarifying and articulating the value of specialized businesses. During this conversation, Jack created a few pieces of art to illustrate our conversation. It is unlike anything we've ever done on this show… We highly recommend you WATCH this one.
"Put yourself in situations where you don't have a clue."
Episode #380: Jay Hennessey - How To Build A Learning Organization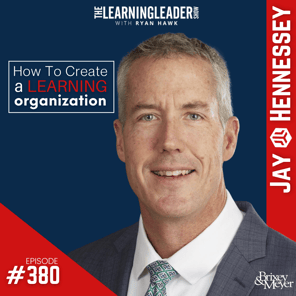 As a Navy SEAL for more than 25 years, Jay Hennessey has completed numerous overseas deployments in and outside theaters of war throughout the Western Pacific, Europe, Asia, the Middle East and Africa. In addition to his operational tours, Jay has served in a variety of other assignments involving selecting, training and qualifying young men to become U.S. Navy SEALs and Special Warfare Combatant Crewman. He currently is the Vice President of Learning & Development with the Cleveland Indians. This role enables him to serve as resource for leaders at all levels to continuously improve through leadership development and learning management initiatives.
"Great teams aren't created by happenstance."
Episode #381: John Mackey (CEO of Whole Foods) - How To Be A Conscious Leader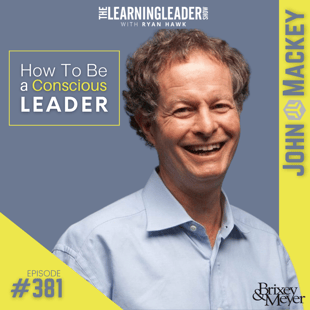 John Mackey is co-founder and CEO of Whole Foods Market, has led the natural and organic grocer to a $15.7 billion Fortune 500 company with more than 460 stores and 87,000 team members in three countries. The company has been included on Fortune magazine's "100 Best Companies to Work For" list for 20 consecutive years. John has been recognized as one of Fortune's "World's 50 Greatest Leaders," Ernst & Young's "Entrepreneur of the Year Overall Winner for the United States," Institutional Investor's "Best CEO in America," Barron's "World's Best CEO," MarketWatch's "CEO of the Year," Fortune's "Businessperson of the Year," and Esquire's "Most Inspiring CEO."
A strong believer in free market principles, Mackey co-founded the Conscious Capitalism Movement and co-authored a New York Times and Wall Street Journal best-selling book entitled "Conscious Capitalism: Liberating the Heroic Spirit of Business" (Harvard Business Review Press 2013) to boldly defend and reimagine capitalism, and encourage a way of doing business that is grounded in ethical consciousness. His latest book is called Conscious Leadership – Elevating Humanity Through Business.
"You need a strong desire to be excellent."
Feel free to reach out to us in regards to anything in this blog! We'd love to hear your thoughts and opinions below!