We are so excited to introduce you to Niranjani, one of our newest team members! She is a Senior Accountant in our Tax Services group making things happen in Cincinnati on the daily!
Not being your average bean counters, it's important to us that you know who we are, what we stand for, and the crazy things we spend our time doing when we aren't serving you! Now, get to know....
Introduce your family:
I met my husband at a cousin's wedding and I fell in love with him because of the way he danced. It wasn't good at all, but he was so confident and I liked that about him! We have 2 beautiful daughters, Laasya (6) and Aanya (4). One thrives on being goofy and super silly and the other is too goody-goody.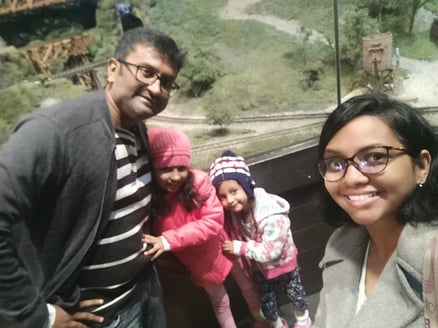 What are you most looking forward to in the near future?
We are still exploring Cincinnati and Kentucky since we just moved here a year ago, so every weekend is literally an adventure for us.
Why do you do what you do?
I like that I can explain my job to people in one sentence vs. something so vague as "Salesforce Consultant" (my husbands job).
At which store would you like to max-out your credit card?
Barnes & Noble
Choose a movie title for the story of your life.
Niranjani - The Nomad
Name one thing still left on your bucket list.
Take my kids to Disney!
That's a wrap! We can't wait to share more about all of our team members, but since there is more to us than just counting beans we are going to take this one rockstar at a time! Until next #MeetUsMonday ... Go Make Dreams Come True!