The Learning Leader Show is a podcast created and hosted by Brixey & Meyer's Leadership Advisory Practice Leader, Ryan Hawk. The show is a top rated iTunes business podcast that focuses on learning from the smartest, most creative leaders in the world.
Brief takeaways from the June episodes of The Learning Leader Show are below and we highly recommend checking them out!
Episode #368: Jim McKelvey - How To Build An Unbeatable Business (One Crazy Idea At A Time)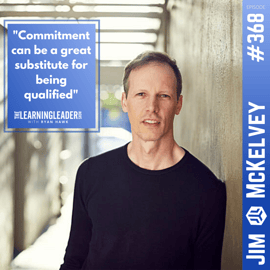 Jim McKelvey is the co-founder of Square, was chairman of its board until 2010, and still serves on the Board of Directors. In 2011, his iconic card reader design was inducted into the Museum of Modern Art. Jim also founded Invisibly, a project to rewire the economics of online content; LaunchCode, a non-profit that trains people to work in technology; and Third Degree Glass Factory, a publicly accessible glass art studio & education center in St. Louis. In 2017, he was appointed as an Independent Director of the St. Louis Federal Reserve.
""Commitment can be a great substitute for being qualified."
Episode #369: Nancy Koehn & Adi Ignatius - Courageous Leaders Are Forged In Crisis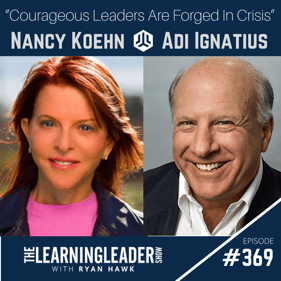 Nancy Koehn is a historian at the Harvard Business School where she holds the James E. Robison chair of Business Administration. Koehn's research focuses on how leaders, past and present, craft lives of purpose, worth, and impact. She's the author of multiple books, her most recent: Forged in Crisis: The Power of Courageous Leadership in Turbulent Times.
Adi Ignatius is the Editor in Chief of the Harvard Business Review. Previously, he was deputy managing editor for Time, where he was responsible for many of its special editions, including the Person of the Year and Time 100 franchises. Previously, Ignatius served as Time's executive editor starting in 2002, responsible for the magazine's business and international coverage. He wrote frequently for the magazine, including cover stories on Google and the 2007 Person of the Year profile of Russian leader Vladimir Putin.
"Great careers are build on passion and the dedication to do the work."
Episode #370: Steve Herz - Don't Take Yes For An Answer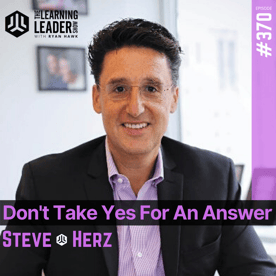 Steve Herzis President of The Montag Group, a sports and entertainment talent and marketing consultancy. He is also a career advisor to CEOs, lawyers, entrepreneurs, and young professionals. Prior to joining TMG, Steve was the President and Founding Partner of IF Management, an industry leader whose broadcasting division became one of the largest in the space, representing over 200 television and radio personalities. The agency represents some of the biggest names in sports and news media, including NBC Sports Mike Tirico, ESPN's Scott Van Pelt and Dan Shulman, and CNN Chief International Correspondent Clarissa Ward. Herz received his bachelor's degree in political science from the University of Michigan and his J.D. from Vanderbilt University Law School. Steve is involved with several charities, including serving on the local leadership council at Birthright Israel. He has also been a volunteer tutor at the Horizon High School at Rikers Island Prison in NYC and the Harlem Academy Charter School.
"Change your voice, change your life."
Episode #371: Maria Konnikova - How To Pay Attention, Master Yourself, & Win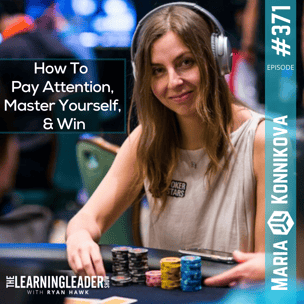 Maria Konnikova is the author of two New York Times bestsellers, The Confidence Game, winner of the 2016 Robert P. Balles Prize in Critical Thinking, and Mastermind: How to Think Like Sherlock Holmes, an Anthony and Agatha Award finalist. Her new book, The Biggest Bluff, will be out from Penguin Press on June 23, 2020. She is a regularly contributing writer for The New Yorker whose writing has won numerous awards, including the 2019 Excellence in Science Journalism Award from the Society of Personality and Social Psychology. While researching The Biggest Bluff, Maria became an international poker champion and the winner of over $300,000 in tournament earnings—and inadvertently turned into a professional poker player. Maria's writing has been featured in Best American Science and Nature Writing and has been translated into over twenty languages.
"I get more aware of my thinking."
Episode #372: Will Guidara - The Nobility Of Service: Lessons Learned From The #1 Restaurateur In The World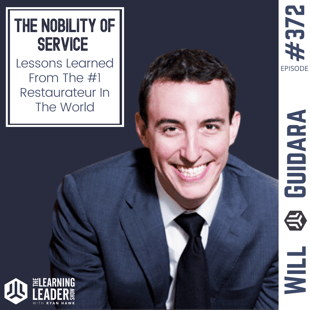 Will Guidarais an American restaurateur based in New York City. Will co-owned the Make It Nice hospitality group, established in 2011, which owns and operates Eleven Madison Park, NoMad New York, NoMad Los Angeles, NoMad Las Vegas, NoMad Bar and Made Nice. Will is also the co-author of four books with Humm: Eleven Madison Park: The Cookbook (Little Brown, 2011), I Love New York: Ingredients and Recipes (Ten Speed, 2013), The NoMad Cookbook, and Eleven Madison Park: the Next Chapter. Along with Anthony Rudolf, Will is the co-founder of the Welcome Conference, an annual hospitality-focused symposium launched in 2014. He is also a founding member of the New York City Dining Room Collaborative and has been a guest speaker at the 92nd Street Y, Mistura and Mesamerica culinary festivals, Google, Cornell University, and The Culinary Institute of America.
"It's not what happened to you, it's how you respond."
Feel free to reach out to us in regards to anything in this blog! We'd love to hear your thoughts and opinions below!