The Learning Leader Show is a podcast created and hosted by Brixey & Meyer's Leadership Advisory Practice Leader, Ryan Hawk. The show is a top rated iTunes business podcast that focuses on learning from the smartest, most creative leaders in the world.
Brief takeaways from the July episodes of The Learning Leader Show are below and we highly recommend checking them out!
Episode #373: Bill Perkins - How To Get All You Can From Your Money & Your Life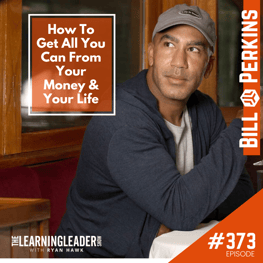 Bill Perkins is a hedge fund manager, film producer, and high stakes poker player from Houston, Texas. He focuses on venture capital and energy markets. He founded Small Ventures USA, L.P in 1997 and later joined Centaurus Energy in 2002. He currently manages Houston-based energy hedge fund, Skylar Capital. Bill is the author of Die with Zero: Getting All You Can from Your Money and Your Life. He grew up in Jersey City, New Jersey the son of football player and politician Bill Perkins and graduated from St. Peter's Preparatory School in 1986. In 2016, he contributed $1.5 million towards the construction of the William O. Perkins III '86 Athletic Center at his alma mater.
"Aiming to die with zero is the most thoughtful thing you can do."
Episode #374: Alexandra Carter - How To Ask For More (10 Questions To Negotiate Anything)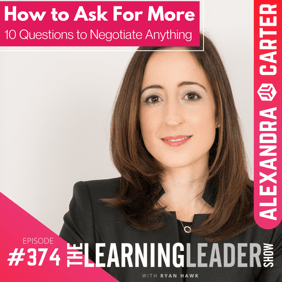 Alexandra Carter is a Clinical Professor of Law and Director of the Mediation Clinic at Columbia Law School. She has spent the last eleven years helping thousands of people negotiate better, build relationships and reach their goals. In 2019, Alex was awarded the Columbia University Presidential Award for Outstanding Teaching, Columbia University's highest teaching honor. She is a world-renowned negotiation trainer for groups and individuals from all over the world—including the United Nations, Fortune 100 companies, the U.S. government, foreign governments, not-for-profit organizations, universities and private law firms.
"How have I handled this successfully in the past? Ask yourself about prior success. Write down your answer. It's a 'power prime.'"
Episode #375: Miranda Hawk - How To Cultivate A Loving Relationship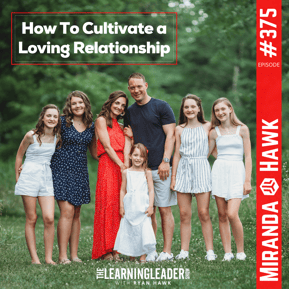 Miranda Hawk is an award winning sales professional, builder of teams, and is on the board for multiple non-profit organizations. Miranda is my wife, and together we are striving to raise our daughters to be kind, strong, hard-working, resilient leaders.
Miranda is the former owner of the Dayton Mom Collective, a business that provides a positive voice for motherhood by connecting moms to resources and parenting perspectives unique to their communities. She has worked in the profession of selling since she was 14 and understands the determination and work ethic it takes to sustain excellence. **We recorded this conversation on our Anniversary.**
"Gratitude - Saying the words. The power behind the words. Being intentional about saying thank you. The importance of specificity."
Episode #376: David Perell - Why You Should Write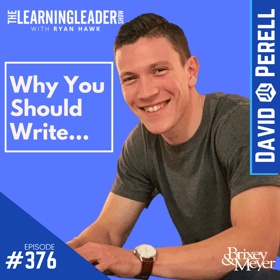 David Perell believes writing online is one of the biggest opportunities in the world today. For the first time in human history, everybody can freely share their ideas with a global audience. David seeks to help as many people publish their writing online as possible. His online course, Write of Passage, has been taken by more than 500 students from more than 40 countries and from companies like Intel, Google, and Twitter. As an Emergent Ventures fellow, David's work is supported by the Mercatus Center at George Mason University.
"The person who writes sets the strategy. If you want to lead, write."
Feel free to reach out to us in regards to anything in this blog! We'd love to hear your thoughts and opinions below!