We are so excited to introduce you to Steve, our newest team member! He is our HR Manager, making things happen in Dayton on the daily!
Not being your average bean counters, it's important to us that you know who we are, what we stand for, and the crazy things we spend our time doing when we aren't serving you! Now, get to know....
Introduce your family:
I am married to my best friend, Beth. We have four amazing children... Caleb, Aaron, Natalie, and Clara.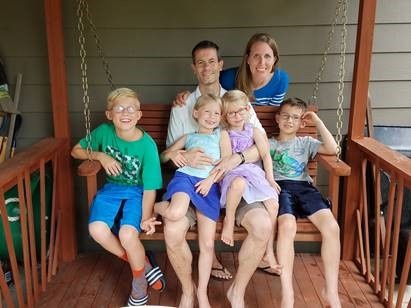 What are you most looking forward to this summer?
I love being outside late in the evening playing with the kids, sitting by a fire (when it's not too hot!!!) with friends and family, and grilling out.
Why do you do what you do?
I love collaborating to help people and organizations unleash their potential. Sometimes it is helping create a better HR process; other times, it is getting someone in the right seat in order to maximize that person's strengths. It is so rewarding to support great people and organizations in these ways.
What's one thing most people don't know about you, but should?
I'm an avid soccer fan... I love watching, coaching, and playing!
Favorite summer dessert?
Graeter's Black Raspberry Chocolate Chip Ice Cream
Name one thing still left on your bucket list?
Attend a World Cup Final... I'm hoping to "check it off" the list in 2026!
That's a wrap! We can't wait to share more about all of our team members, but since there is more to us than just counting beans we are going to take this one rockstar at a time! Until next #MeetUsMonday ... Go Make Dreams Come True!