We are so excited to introduce you to Miranda. She's the Marketing & Business Development Manager for Brixey & Meyer. #MeetUsMonday gives you the opportunity to meet #TeamBrixeyMeyer one rockstar at a time and today it's ALL about Miranda!
We aren't your average bean counters and it's important to us that you know who we are, what we stand for, and the crazy things we spend our time doing when we aren't serving you! Now, get to know....
<<< Miranda Hawk >>>
Introduce your family:
Married to Ryan & we are proudly raising five daughters. (that's not a typo)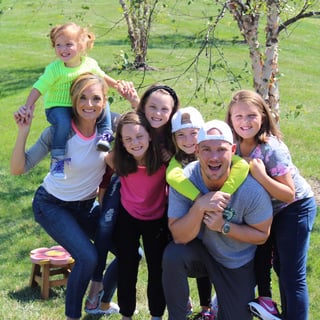 :: Charlie, Miranda, Payton, Addi, Ella, Ryan & Brook ::
What are you most looking forward to this Fall?
The Weather! I'm a sucker for jeans and a great t-shirt, boots!, a hot cup of coffee or tea, and ALL the fall decor!
What is the most rewarding part of your career?
Forging new and stronger relationships! I love meeting new people, learning about their story, their business, how they came to be and where they want to go!
If your favorite celebrity were coming to town, where would you tell them to Visit? Eat? Drink?
Visit our Metro Parks...there's so many and this time of year they are all great. Eat at Basil's or Doubleday's and Eat/Drink at Lock 27!
What are you a closet fan of?
Pinterest. Perhaps it's not a secret, but it's literally my "google" for both my professional and personal life. Some enjoy TV, however I could get lost in Pinterest for hours if I had that kind of time!
Share a picture of something you love/enjoy: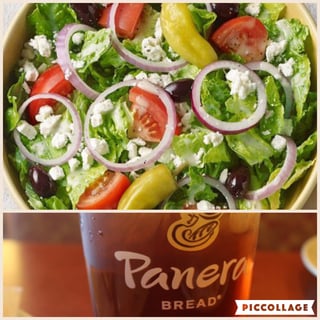 :: Panera Greek Salad & Iced Tea - Could have this every-single-day! ::
Name one thing still left on your bucket list?
Bungee Jumping off a bridge!
How did you 'settle' in Dayton?
I attended WSU and with the exception of a year in Columbus and a year in Reno, I've called Dayton my home for my adult life. I love this city...big enough yet small enough and close to so many other great cities!
That's a wrap! We can't wait to share more about all of our team members, but since there is more to us than just counting beans we are going to take this one rockstar at a time! Until next #MeetUsMonday ... Go Make Dreams Come True!