We are so excited to introduce you to Johnny, our newest team member! He is our new Business Advisory Manager, making things happen in Cincinnati on the daily!
Not being your average bean counters, it's important to us that you know who we are, what we stand for, and the crazy things we spend our time doing when we aren't serving you! Now, get to know....
Introduce your family:
Jenny (my wife) and I started dating in college at Miami U, and we have been married 8 years. We have 3 kids (Davis and Margot are 2 year old Boy/Girl twins... and our youngest, JJ, is 2 months old). We are in Madeira, OH (suburb of Cincy) and on weekends we love going to the local parks, Cincinnati Zoo, and Newport Aquarium.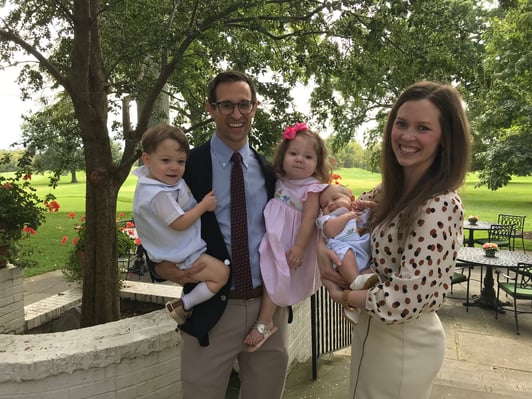 What are you most looking forward to this fall?
I always look forward to going to a couple of the farms/pumpkin patches to pick out pumpkins with our family. Fall is my favorite season, so I love doing things that take advantage of the great weather and beautiful outside scenery.
Why do you do what you do?
I find that solving big/complex problems is energizing for me, and I love helping people. I look forward to doing this with many clients with the B&M Business Advisory team.
The best chip ever is...
Hen of The Woods - Original Flavor. They're made in OTR (Downtown Cincinnati), and they can be found in Kroger. Try them, and you won't be disappointed!
What, or who, are you a "closet" fan of?
I'm actually a big fan of yoga. I find it helps me focus and think clearly all while getting a workout.
Name one thing still left on your bucket list?
To visit Banff in Alberta, Canada. I love to hike, and Banff apparently has great hiking!
That's a wrap! We can't wait to share more about all of our team members, but since there is more to us than just counting beans we are going to take this one rockstar at a time! Until next #MeetUsMonday ... Go Make Dreams Come True!