We are so excited to introduce you to Brian, one of our newest team members! He is a Manager in our Tax Services group making things happen in Cincinnati on the daily!
Not being your average bean counters, it's important to us that you know who we are, what we stand for, and the crazy things we spend our time doing when we aren't serving you! Now, get to know....
Introduce your family:
I have been married for 15 years to my wife, Emily, and we have 4 kids (boys on the ends and girls in the middle). Evan is the oldest at 12 years old attending Milford Junior High. Katie and Nora are twin 7 year old girls in the 2nd grade. Kyle is 5 years old attending kindergarten. Katie, Nora, and Kyle attend Pattison Elementary in Milford.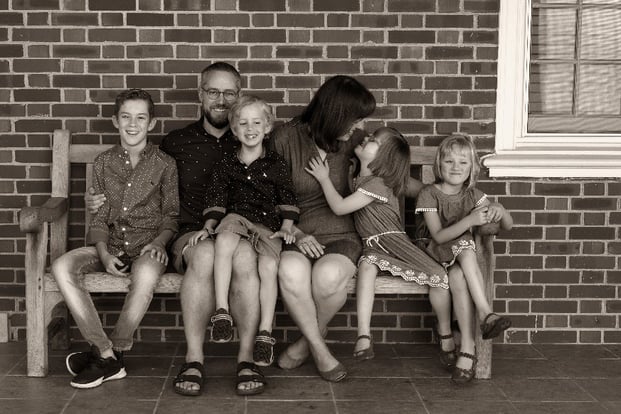 What are you most looking forward to in the near future?
I'm excited about busy season, there is no better way to learn about clients and your job than to jump in feet first. I will especially be looking forward to my commute during busy season as I live 12 minutes from the office, 15 if I hit a red light!
Why do you do what you do?
I enjoy taxes, there are a set of rules you must understand but those rules are always open for interpretation. When I was younger, I played board games and would focus on the wording of the rules, so I could find ways within the rules to win the game.
Favorite food?
My favorite food is Italian.
What is the nerdiest thing you do in your spare time?
I built a dollhouse for my girls. It took many months and lots of "is it done yet" comments.
The best chip ever is...
Cool Ranch Doritos
Name one thing still left on your bucket list.
Travel to a European country with my wife.
That's a wrap! We can't wait to share more about all of our team members, but since there is more to us than just counting beans we are going to take this one rockstar at a time! Until next #MeetUsMonday ... Go Make Dreams Come True!