We are so excited to introduce you to Anthony, one of our newest team members! He is a Staff Accountant in our Audit & Assurance Services group making things happen in Cincinnati on the daily!
Not being your average bean counters, it's important to us that you know who we are, what we stand for, and the crazy things we spend our time doing when we aren't serving you! Now, get to know....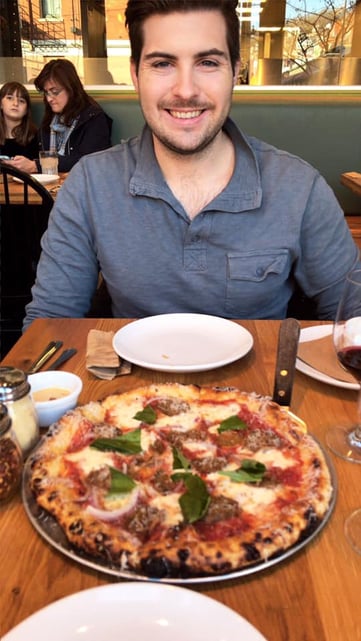 Anthony eating his favorite food at Finely Market.
Introduce your family:
My family consists of my four sisters and my parents. My two youngest sisters are in grade school and live with my parents in Great Falls Montana, while my other two sisters are in Utah and D.C. for college.
What are you most looking forward to over the next couple of months?
These next couple of months entail a handful of big changes in my life that I'm excited to explore, but I'm mainly looking forward to the beginning of my career and eating my way through a new city. I can't wait to meet everyone and gather a list of restaurants to try.
Why do you do what you do?
I love to be challenged and help people. Accounting allows me to meet both of those at the same time, while keeping me mentally stimulated with the opportunity to always learn something new.
Favorite dessert?
My favorite dessert is mint chip ice cream with a cup of coffee, which also serves as my motivation to workout.
At which store would you like to max-out your credit card?
Jungle Jim's or REI. I'm fascinated by multi compartmented backpacks and food I can't pronounce.
What is the nerdiest thing you do in your spare time?
The nerdiest thing would have to be playing Axis and Allies or reading high fantasy/Sci-Fi novels like the Storm Light Archives and the Forever Wars.
That's a wrap! We can't wait to share more about all of our team members, but since there is more to us than just counting beans we are going to take this one rockstar at a time! Until next #MeetUsMonday ... Go Make Dreams Come True!